This guide takes you through how to make the Lamborghini Diablo GTR Best Drag Build in Forza Horizon 5. We show you step by step every part and tuning needed to make this car one of the fastest drag cars in the game.
Vehicle History
The Lamborghini Diablo is a high-performance sports car built by Italian car manufacturer Lamborghini between 1990 and 2001. Diablo means devil in Spanish.
How to unlock the Lamborghini Diablo GTR
To unlock the Diablo GTR you first need to purchase the Diablo SV from the Car Show for 174,000 credits. You then need to purchase the Diablo GTR in the Diablo SV Car Mastery Skill Tree for 50 skill points. You can find it in the very top right of the Car Mastery Skill Tree.
Drag Tune Specs
Below are the specs for the Lamborghini Diablo GTR drag tune. We can see the car has gone from a top speed of 167mph to 285mph. Wait until you see this thing on the quarter-mile!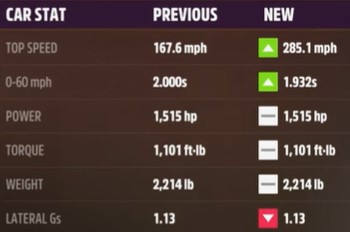 Drag Car Parts
Make sure to remove the rear wing. The same can be done for all drag build as any type of drag ultimately slows you down. Copy the parts as seen below.
Engine Swap: 6.5L V12
Drivestrain Swap: AWD(All Wheel Drive)
Aspiration: Twin Turbo
Tire: Drag Race Tire Compound
Front Tire Width: 245mm
Rear Tire Width: 365mm
Front Track Width: Stock
Rear Track Width: Upgraded Max
Transmission: Stock
Driveline: Race
Differential: Race
Brakes: Race
Spring and Dampers: Rally
Weight Reduction: Race
Intake: Race
Fuel System: Race
Ignition: Race
Twin Turbo: Race
Valves: Race
Displacement: Race
Pistons/ Compression: Race
Intercooler: Race
Drag Tuning
The tuning of the Diablo GTR is where you make or break the car. Please pay attention to how the tuning is below. Especially if you don't usually tune cars. If you feel it needs some tweaks by all means tune away. However, I feel like this tune is the best for reaching top speed on the quarter-mile.
Tires
Gearing
Final Drive: 2.2
1st: 5.59
2nd: 3.05
3rd: 2.02
4th: 1.50
5th: 1.21
6th: 1.05
Alignment
Camber
Toe
Front Caster
Antiroll Bars
Springs
Ride Height
Damping
Rebound Stiffness
Bump Stiffness
Aero
Brake
Braking Force
Balance: 45%
Pressure: 115%
Differential
Front
Acceleration: 100%
Deceleration: 0%
Rear
Accelertation: 100%
Deceleration: 0%
Centre
Summary
This tune was originally built by Apex Predator. He also goes by the GT: StigZ on Horizon. Check him out sometime.
If you liked the tune make sure to check out more of our drag tune guides while you're hanging around.